Dogs innately have calming skills, which they practice with each other to maintain healthy relationships, diffuse conflict and avoid aggression. They send signals that help both dogs deal with interactions, such as one dog charging another. Many dogs use calming signals to show goodwill, or even ask another dog for information. They are saying, "I am calm and respectful, show me that you are, too."
A calming signal can be subtle or overt, as small as a slight turn of the head, or sniffing/scratching the ground. Or more overt, such as a big loud yawn.
Dogs without the ability to use and understand calming signals can struggle in socialization. (Docking tails or ears and wearing clothing can hinder the ability to communicate through calming signals.)
Once you know how to understand your dog's body language, you'll be better able to respond to its needs.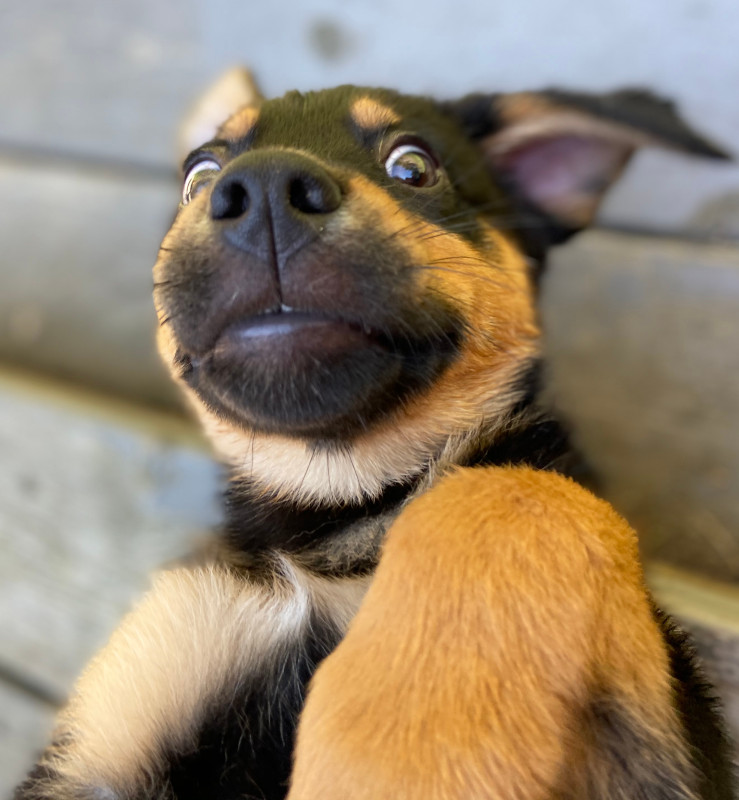 Dogs' Calming Signals
Here are some common calming signals your dog may show you so you can learn how to understand dog body language more deeply:
Looks away from another dog or person.
Yawning.
Large sigh.
Sniffing "nothing".
Raises front paw as question: "Are you cool? Tell me more."
Shakes off, as if wet, head only or entire body.
Scratching (many think their new puppy has dry skin).
Blinking slowly.
Lip or nose licking.
Tongue flicks.
When approaching a dog, human or item, they move in an arc pattern and make a wide semi-circle area.
Moving in an arc pattern, leaving a wide semi circle berth).
Sitting or lying down with back to the another dog or person.
Stretching, with front paws down and rear high. Similar to a play bow, but with a different meaning.
Making a soft face, with ears back and soft looking eyes.
How and When to Cue Calming Signals
Calming signals are useful in training your puppy or dog, especially when it becomes over-excited and stops responding to cues, turning away from you and scratching their body.
When that happens, turn your head, give a loud sign or yawn and take a break. Your puppy will be happy you understood that they needed a break.
How to Recognize and Understand Canine Stress Signals in Dog Body Language
Early stress signals, known as displacement behaviours, are the same as calming signals. Your dog is telling you it's uncomfortable. If the stress escalates or does not resolve itself, the language can turn more aggressive, with lowered body posture, ears flat back, with eyes averted or darting, or wide open "whale eyes" with the whites showing, all indicating your dog is in a state of hyper vigilance.
Progressively, other signals emerge:
hackles up
leaning back on haunches
backing away
hiding from you
shaking or shivering
whining or growling
air-snapping for no visible reason
lunging with growling
lunging with snapping (no contact)
biting backs of legs or pants as humans turn away
defensive tooth display (with most front and back teeth showing)
offensive tooth display (only front incisors showing, including canines), or submissive grin coupled with submissive body postures.
Never approach or use force on a dog displaying this highly aggressive dog body language or it will escalate to a bite. You will need to contact a professional for assistance, call animal control 311 in an emergency.