Get Your Dog to Listen to You Every Time
When your dog is not looking at you, it can't hear you. It's as if your dog's hearing shuts down when it no longer has eye contact with you. And if your dog is already running away from you, good luck trying to get it to listen!
The fix? Train your dog to understand its own name by responding to it with eye contact. When a dog looks at you, it has an opportunity to hear you. And even more importantly, you have the chance to keep your dog's focus on you.
Here's a simple game you can play with your dog to improve your dog's response to their name.
Step One – Make Eye Contact and Use a Gentle Voice
Standing close to your dog, say its name in a relaxed and light tone while holding a piece of kibble (or freeze-dried raw food). If your dog does not look at you, reach out and offer the kibble. Then say your dog's name and give a kibble regardless if they look at you or not.
Once they are constantly looking at you on their own, then wait until they look at you and then mark "YES" (your "mark" means you are saying for example "YES" or "Click" if you're using a clicker) and reward. Repeat this procedure 10 to 15 times, with the kibble.
Have each household member play this game daily with your dog over 7 days—and you'll see a much better response and engagement.
Tip: For a timid dog, slowly increase the number of times you say their name and offer the kibble. Repeat and repeat, just at a more gradual pace.
Step Two – Practice with a Commanding Tone
Your dog is now conditioned to respond when you say its name in a soft and pleasant voice paired with a small food reward, but what happens when your dog goes to run for the road or puts their paws up on the stove? We naturally use a louder, stern tone of voice to keep our dog safe or correct unwanted behaviour.
We want to avoid using a harsh tone with our dogs as much as possible. However we are all human and tone of voice is a human response. Ideally, we want our dog to respond to us regardless of the tone of our voice.
In order to achieve this response to our sterner tone of voice we must condition our dog to understand that our louder and stern tone of voice is ok! So simply repeat the instructions of Step One and add high value food rewards like cooked meat or cheese. Change your tone of voice and the volume to sterner and a bit louder and offer a higher-value food reward. This creates the correct response in your dog for real-life situations.
The key is increasing the value of the food reward and pairing with your sterner tone as you say your dog's name. This starts to train your dog to understand its own name whether you say it in a quiet, stern or louder voice.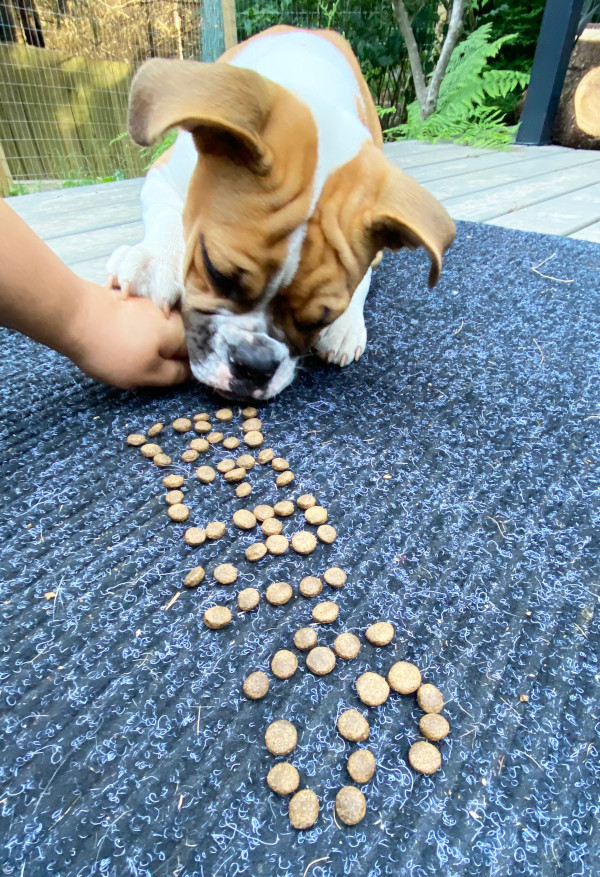 Step Three – Add Some Typical Distractions for Your Dog
Once your dog is responding to their name with a soft friendly tone and a louder stern tone, it is time to practice both outdoors on your walks, and indoors wherever distractions typically occur.
When outdoors, practice the Name Game when your dog strains at the leash when other people walk by or when it sees another dog.
Indoors, it could be at times when your dog barks at the window, at the door, or the food cupboard.
Use the Name Game to get your dog's attention away from the distraction and give them another command like sit, down or go to your place to settle your dog. 
If your dog is at the end of the leash use their name to get them to look at you. Once they are looking at you, reward them with kibble and affection.
Success Tips
Only use your dog's name when you can follow through with the attention-and-reward step. If you think your dog is 95% likely to respond, say its name. Otherwise, use another way to get its attention.
Don't use your dog's name without giving a reward until the new behaviour is well established.
Never use the dog's name in order to scold or punish.
Don't use your dog's name if its behaviour is "over the threshold"; that is, already barking, lunging, or hyper-vigilant.